It was so exciting to finally have a full-scaled College Musical Production return to our calendar after a few years of COVID-related cancellations. This year, we showcased Kenneth Grahame's beloved classic "The Wind in the Willows". The unforgettable characters of Toad, Mole, Rat and Badger were joined by the Rabbits, Weasels and Stoats as the story sprung to life in the musical adaptation. Badger coming out on top in the fight scene with the Chief Weasel and the entertaining police chase of Toad through the audience were highlights. 
Our students were outstanding as they learnt many difficult singing pieces and entertaining dance choreography. Our live orchestra, predominately comprised of our own music students, performed brilliantly every night.
We are indebted to all those involved in every aspect of the Production including our inaugural FOPAs (Friends of Performing Arts); parents and grandparents who assisted with hair, makeup, costuming and running our canteen each session, and staff who helped supervise, worked on costuming, hair and makeup and helped out with our Front of House. Several of our Alumni returned to help students learn lines, teach choreography and support us with the administrative tasks needed: Kelsey Skinner, Hannah Sefton, Digby Pettit, Kieran Smith and Jordan Reincastle. The students are indebted to the support and assistance from staff members Mrs Karen Moody and Mrs Gina Goddard who assisted with costuming and Front of House, Mr Cory Tickner and Ms Paige Alderdice for all their help with the construction and painting of the sets and props, Mrs Aimee Iacusso and Mrs Jill Collins in the College Front Office who helped with the Community Relations for the Production, Mrs Vicky Perrio in the Music Department who liaised with the FOPAs and prepared 100s of sign in sheets, Mr Brad Rawlins and his team for their grounds and maintenance support and to Sister Chau and Mr Marco Ieritano for visiting us and documenting our rehearsals and show with photographs and video.
The Production could not have been successful without the outstanding efforts and hours of dedication from our Director, Mrs Rebecca Williams; her Co-Director, Miss Maddy March-Anthony; our Music Director, Mr Chris Milne; our vocal teacher, Mr Mathew Leak and our Sets/Props/Backstage Director, Mr David Lyons-Nash. Congratulations to all involved in the 2023 College Musical Production, "The Wind in the Willows".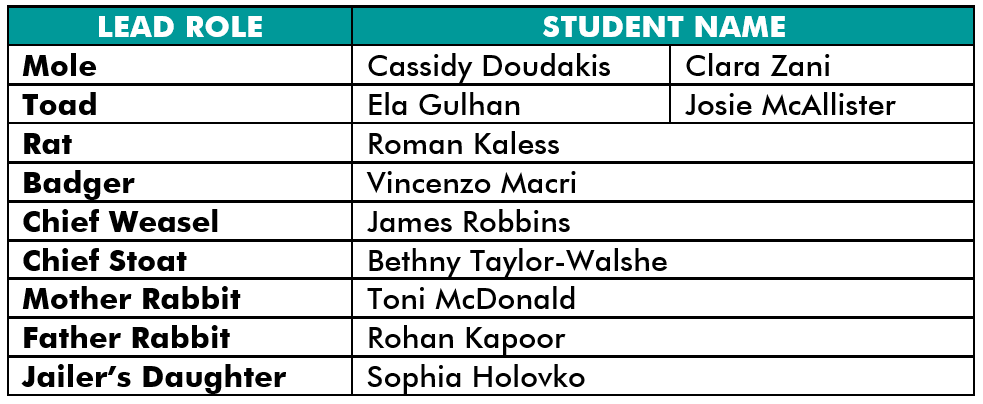 Mrs Nicole Huggins
Deputy Principal – Excellence