On Saturday 16 September, two teams from Chisholm Catholic College won their way into competing in the Creative Edge State Finals. This competition had the teams locked away for three hours to solve a real-world problem in a creative way and then act it out afterwards.
During the lockdown period, students had to produce the solution as well as write the script, make the costumes and props and finally rehearse the performance. This is not an easy task as the time limit of three hours is very demanding.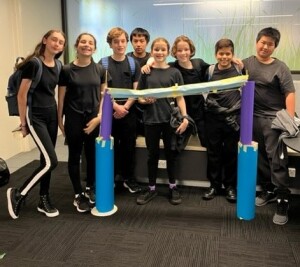 We had a Science and Engineering Team who also had to build two towers connected by a bridge with the strength to hold a tennis ball across the bridge. This team consisted of a group of Year 8 students: Finian Jordan, Raph Toh, Ryan Bai, Sabelle Chami, Sophia Brunini, Darcy Jordan, Nathan D'Cunha and Marc Sumpton.
They had a very sturdy bridge and put in a great performance, however, were pipped at the post by Duncraig Senior High.
Our second team competed in the Society and Environment category and had to discuss what school will be like in the year 2100. This team consisted of: Eleni Chapman (Year 9), Chiara Del Marco (Year 9), Madison Buluran (Year 9) and Escher Clover (Year 8).
Roman Kaless (Year 10) was also part of the team that competed in the regional final. This team performed extremely well and their script was very original. The judges ranked them the highest in their division crowning them State Champions. An incredible effort by these students.
I would like to thank Ms Goddard for being a supervising teacher on competition day and all her work previously on this competition. Thanks also to the Ms Ng, Ms Box and Ms Hayes who supervised students after school so that they could prepare for this competition.
Mrs Kylie Underwood
Coordinator – Gifted and Talented Programme