Congratulations to all students who competed in the Inter-House Cross Country on Monday 4 April. It was great to run a modified event given the current climate which included races in year groups and a new 1km course on our College oval & beyond. The following students were crowned Year Group Champions, while Keenan took out the title of winning house in a closely contested carnival.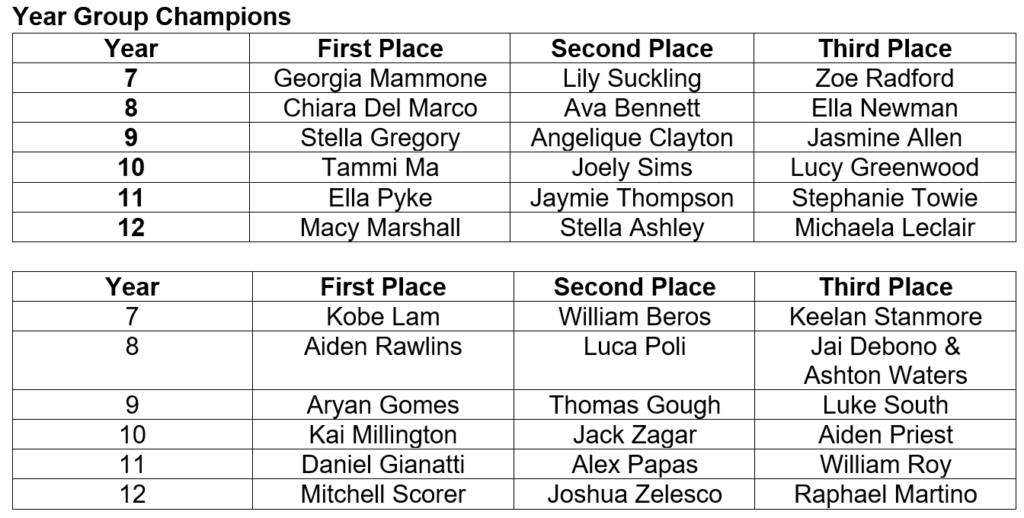 A carnival of this size does not run itself. THANK YOU to the all the staff who worked behind the scenes to ensure the day was a success including Director of Sport Ralph Heyes and Sports Assistants, Daniel Sharp and Xavier Brenton-Reed. Special mention to Head of Physical Education Mr Ben Lillis for going above and beyond ensuring our students experienced such a wonderfully organised event. 
Any students who missed the Inter-House event are welcome to attend training in Term 2 and push for selection for the ACC Inter-School team. At this stage there is no confirmation on how the event will run but it will likely be in a modified format similar to the ACC Swimming Carnivals. Students interested in representing the College at this event are encouraged to keep up their training and fitness over the holidays.
Mr Nic Italiano
ACC Cross Country Head Coach