Theatre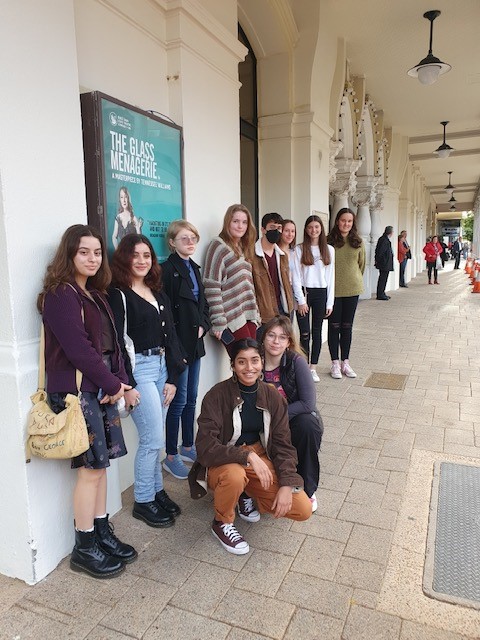 On Sunday 14 August, a group of Year 10-12 students were treated to the Black Swan Theatre production of Tennessee Williams' classic family drama 'memory play', The Glass Menagerie at His Majesty's Theatre. The drama was superbly directed by Clare Watson, offering memorable performances by Mandy McElhinney as Amanda Wakefield, the family matriarch and Joel Jackson as Tom, both narrator and Amanda's son.
Students were inspired by the polished performances and evocative staging. They were particularly enamoured by the presence of pianist Tom O'Halloran, who performed on stage throughout the entire drama. His nuanced tunes reflected the varied emotions, drama and tensions playing out within the Wingfield family's home. The poignancy of the drama left students moved, reflective and thirsty for more theatre experiences.
Debating News
Week 5 saw our debating teams come together on Tuesday 16 August for the final debate of the season. Year 8 Affirmative team (Eleni Chapman, Amelia Yates, Chiara Del Marco) took on the Year 9 Negative team (Roman Kaless, Grace Slattery, Lydia Sammells) in a well-researched and engaging debate. The topic was that "the border with Indonesia should (or should not) be closed to prevent the spread of Foot and Mouth disease". Students demonstrated an awareness of the complexity of the issues and challenged each other by asserting strong and compelling arguments. In a tight debate, the win went to Year 8.
Well done to both teams for offering persuasive arguments and congratulations to Year 8 on taking out the win. Hopefully 2023 will see a return to a new normal with our teams returning to Perth College for the Western Australian Debating League Competition.
Ms Ann Franich, Miss Karis Wilson, Miss Julianne Molloy
English Learning Area