Linda Loo, artist of Linlelu Arts and her husband Bruce Loo, worked with the Aboriginal students to design the Art Mural located in the Aboriginal Education Office. They spent a whole day last term working with the students on the design and what they wanted their story to be. Once that was completed, Linda spent additional time to complete the Mural, painting during the school holiday period.
The students wanted the artwork to represent the College, Aboriginal Education Office and the significance of where the school is located, behind the Hillcrest Reserve. They wanted the animals in the artwork to be meaningful and relevant. The use of love and friendship symbols represent the relationships formed through the Aboriginal Programme and the school, small gathering and yarning circles represents everyone coming together to learn and grow, travel lines representing everyone travelling to and from the school, and the river and waterhole symbols represent the Derbarl Yerrigan (Swan River). The use of animal footprints is included to represent the animals in the art but also represent how they are a food source. Elders are also represented as they are always looking over us and guiding us through life spiritually. Around the boarder of the Mural are handprints of all Aboriginal Education students, Aboriginal and support staff, which represents the Indigenous and non-Indigenous community within the school and how they are all connected.
Below is the story of Strong Place of Knowledge and Growth: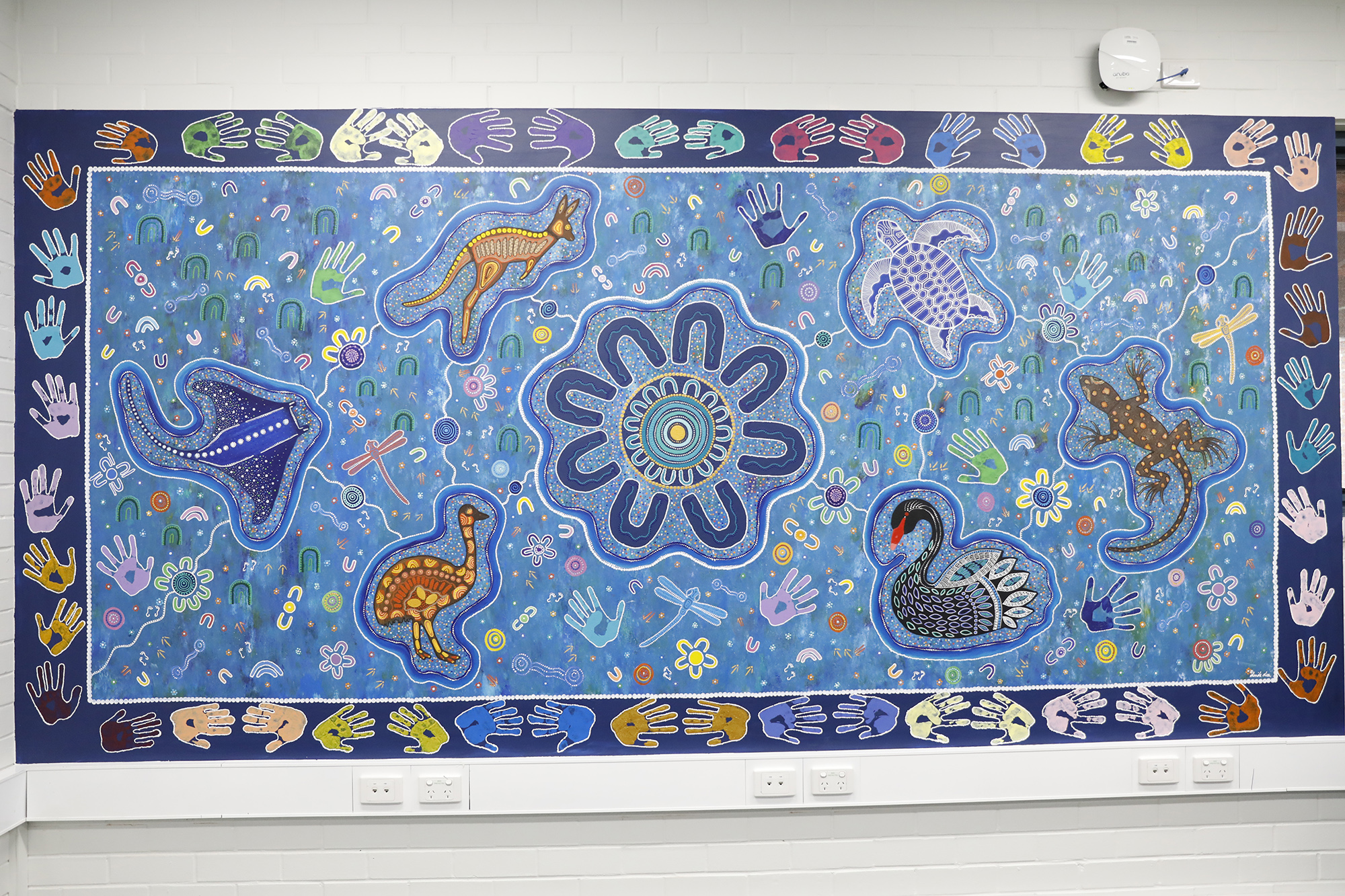 Our story begins with the sun, our energy source for growth and knowledge. The 15 people have travelled and gathered in the centre (the Office) around the sun. They are surrounded by the eight people representing the community who supports us. Our knowledge and growth also comes from our environment, land, people, and animals. The earth animals, Yonga (Kangaroo) and Kaarda (Goanna) represent strength. The Djakaran noort Djilba (Dragonfly) animal brings good luck. The water animals, Yagan (Turtle), Bam Bam (Manta ray) and Maali (Swan) bring us health. The significance of Chisholm's location is mapped through the hills. We are located next to Hillcrest and near the Derbarl Yerrigan, a summit for food and hunting. Whadjuk Nyoongars would come in land during wet seasons as the river overflows. The people and community have forged loving friendships shown through relationship symbols. Our knowledge continues to be shared and is left as hand and footprints. We live our lives under the guidance of our elders and to continue our peoples' growth and knowledge.
Miss Amy McGuire
Aboriginal Liaison Officer